Innovative Solutions for Pig Housing: Optimize Welfare and Productivity
The use of individual farrowing pens has proven to be an effective solution for aiding sows during the piglet birthing process. Equipped with warming boxes and other essential features, these pens provide optimal conditions for newborn piglets, ensuring adequate warmth and comfort. With numerous manufacturers offering different types of farrowing pens in the market, it becomes essential for farmers to understand the factors to consider when making a purchase decision.
Open vs. Closed Design:
Open-style warming boxes are suitable for farms with efficient insulation, providing adequate warmth for piglets. In contrast, closed-style warming boxes are ideal for farms with less efficient insulation, where additional measures are needed to maintain suitable temperatures.
Integrity of Warming Boxes:
To achieve optimum insulation, it is crucial to maintain the integrity of the warming boxes. Any damage, such as missing lids, cracks, or lack of flooring, can compromise the insulation's effectiveness, leading to reduced thermal performance.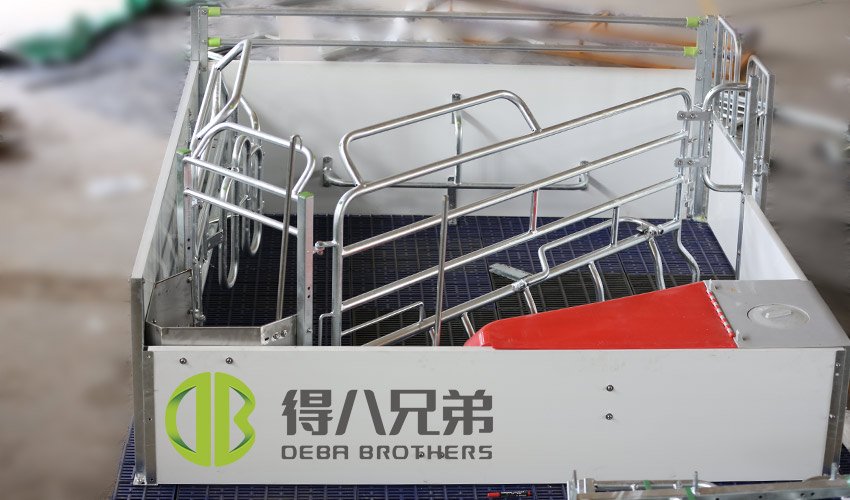 Proper Height for Heat Lamps:
The height at which heat lamps are suspended should be adjusted according to the temperature of the piglet activity area, ensuring a comfortable environment and minimizing the risk of sickness.
Material Selection:
Selecting the right material for warming boxes is essential for piglet health. Plastic, composite materials, fiberglass, and bamboo plywood are common options. It is recommended to choose materials with low thermal conductivity to avoid overheating the piglets or discouraging their entry into the warming boxes.
Enhancing Piglet Survival Rates:
Raising the height of individual farrowing pens has shown significant benefits for piglet survival rates. By elevating the pen's height from 20 cm to 45 cm, the occurrence of colibacillosis in piglets decreased by 50% to 70%. Understanding the sow's growth and reproductive patterns, individual farrowing pens should be tailored to accommodate five stages: gilt, pregnant sow, farrowing sow, nursing sow, and empty sow. Proper management at each stage directly influences the sow's growth, reproduction, and overall value.
Maintaining Optimal Conditions:
During the use of individual farrowing pens, it is crucial to keep the farrowing room dry, clean, well-ventilated, and comfortable, with a temperature of approximately 25 degrees Celsius. Preparing the individual farrowing pens 7-10 days before the sow's due date and guiding the sow into the pen 5-7 days before delivery will help the sow acclimate to the environment. Additionally, regular cleaning and maintenance of the farrowing room will ensure a warm, clean, and dry environment with fresh air and ample sunlight.
Benefits of Using Individual Farrowing Pens:
Solid Frame: Made of hot-dip galvanized pipes, the pen frame is sturdy and durable.
Flooring: The sow's area features cast iron slats, while the piglet area utilizes plastic slats, catering to the different growth needs of both the sow and piglets. The pen's protective railing is made of 1-inch steel pipes, and the enclosure is built with a 6-gauge steel pipe frame.
Adjustable Height Barrier Plate: The pen includes a cast iron slat for the sow and polypropylene slats on both sides, ensuring the sow's and piglets' well-being. It also includes a sow cast iron trough and piglet feeding trough.
Individual farrowing pens offer a progressive approach to pig housing, optimizing welfare and productivity. With their thoughtful design and focus on animal well-being, these pens contribute to healthier and more efficient pig farming operations. Our modern pig farming equipment, including the WELSAFE Farrowing Pen, can enhance your pig farming practices, ensuring a sustainable and animal-friendly environment. Embrace innovative solutions and make a positive impact on animal welfare while enhancing your farm's success.