Optimizing Pig Farming Practices for Sustainability and Environmental Health
At our pig farm, we are acutely aware of the environmental challenges posed by greenhouse gas and ammonia emissions. These emissions predominantly stem from agricultural operations and manure management, playing a significant role in global warming and ecological imbalances. To address these concerns, we are dedicated to implementing cutting-edge practices that reduce our farm's carbon footprint and promote sustainability.
In line with the European Union's (EU) focus on emission reduction, we have taken proactive measures to mitigate ammonia emissions. In 2020, ammonia emissions in the EU amounted to 3.2 million tons, with 67% linked to livestock manure management. While this represents a slight decrease since 2008, it remains clear that concerted efforts are essential. The agricultural sector's greenhouse gas emissions have remained largely stagnant, contributing around 465 million tons of CO2 equivalent annually, constituting 16.9% of total emissions. It's noteworthy that methane (CH4) is a significant contributor, accounting for 44.5% of these emissions.
Our commitment to sustainable practices goes hand in hand with technological advancements. While measuring total and ammoniacal nitrogen in slurry is relatively straightforward, monitoring invisible gases like ammonia (NH3), nitrous oxide (N2O), and methane (CH4) presents challenges. These gases, though unseen, impact our environment significantly. They affect animals' well-being, compromise slurry's fertilizing potential, limit biogas production, and contribute to detrimental environmental effects like acid rain and greenhouse effects.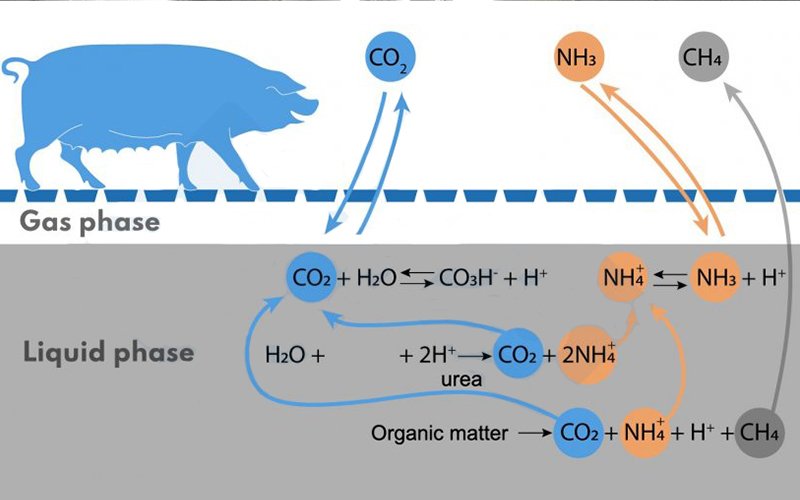 Addressing these challenges requires innovative approaches. We believe that effective livestock manure management is pivotal in reducing NH3, N2O, and CH4 emissions. By prioritizing sustainable practices, such as optimizing nitrogen sources and leveraging technology, we can significantly mitigate emissions.
The key to controlling ammoniacal nitrogen lies in understanding its sources, primarily urea and the anaerobic breakdown of protein-rich organic matter. The equilibrium between NH4+ and NH3 is influenced by pH and temperature, underscoring the importance of balanced management.
Similarly, CH4, produced from the anaerobic decomposition of organic matter, demands strategic management. Ensuring proper volatile solids digestion significantly curbs CH4 production. Additionally, though carbon dioxide (CO2) is not considered a greenhouse gas due to its biogenic origin, its role in regulating pH is paramount. This becomes crucial when considering acidification strategies to minimize NH3 emissions.
Our commitment extends beyond mere words. We actively engage in strategies to minimize direct N2O emissions, focusing on controlled biological systems and uncontrolled environments to ensure responsible management.
Our pig farm is dedicated to adopting practices that prioritize sustainability and environmental well-being. The challenges posed by ammonia and greenhouse gas emissions demand innovative solutions. By integrating advanced techniques, optimal manure management, and a commitment to reducing emissions, we aim to be a beacon of environmentally conscious pig farming. Join us in our journey towards a greener and more sustainable future.